Small Church vs Large Church — Looks Are Deceiving!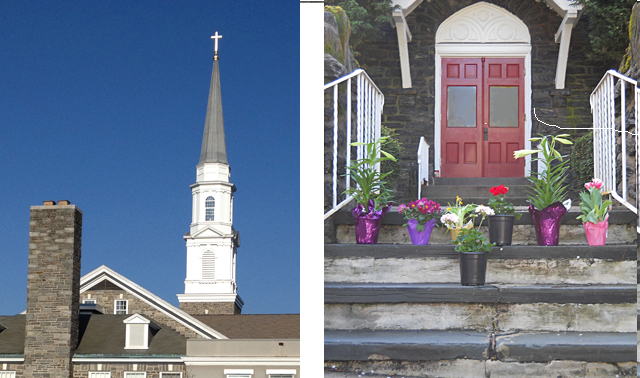 Comparing SEPA's Largest Congregation


with the Church SEPA Says Doesn't Exist
What do Trinity, Lansdale, and Redeemer, East Falls, have in common?
We both engage with more than 700 followers each week.
According to Evangelical Lutheran Church in America Trend reports, Trinity, Lansdale, stands alone among Southeastern Pennsylvania churches in numbers. It has nearly 5000 members and an average worship attendance of 725. Most other large churches in SEPA — and there are only a few — average around 400.
Most SEPA churches are much smaller with about 100 or fewer at worship (many much fewer). ELCA Trend  measures only membership, attendance, income and expenses (in various configurations).
There are new statistics that will mean more in the emerging church. Churches don't have to worry about collecting the data. The internet tracks results for you. This is where Redeemer is breaking ground no other SEPA church seems to be seriously exploring.
Redeemer is no longer listed in the Evangelical Lutheran Church in America Trend reports, although the congregation never voted to close. We'll take that up with the ELCA later.
Redeemer was growing quickly although we were still among the SEPA churches with fewer than 50 in average weekly worship attendance—the only engagement most churches measure. The Southeastern Pennsylvania Synod seized Redeemer's property and locked our doors in 2009—something about inability to fulfill mission. (They approved a $275,000 budget deficit at the same time they claimed our property.)
There was plenty to question at the time, but no one did. There is more to question now!
Redeemer has continued its ministry without our property. There is no rule that a congregation must own property.
Locked out of God's House in East Falls, we took our ministry online with our blog, 2x2virtualchurch.com. We now have an average weekly following approaching 800 in new traffic and about 150 who subscribe to our site daily. We engage between 1000 and 2000 readers each week.
Redeemer may have the largest engagement of any SEPA congregation! The potential for effective mission is huge.
While the Southeastern Pennsylvania Synod of the ELCA has tenaciously tried to destroy our ministry, we adapted — and grew!
2×2 is written with lay leaders in mind. Our experience as a small church is that lay leaders are the innovators in ministry. Most have part-time pastors. Growing churches is not part-time work. The passion of lay people (an undervalued resource) is keeping many churches going.
Small churches need resources that don't rely on paid skills.
We had an additional challenge. Redeemer is multicultural and multilingual. No single age group dominates. That means we can't just turn to a choir or a youth group or a Sunday School class to create interesting activities. We developed materials that could be adapted to any eclectic grouping.
When we still had our building we posted these resources on generic ministry websites.
Two years ago we began posting them on 2×2.
We posted an Easter play Redeemer performed for all East Falls churches in 2009. It was downloaded 300 times last year and 3000 times this year.
This tells us how we can further serve the large audience of small churches. Search engine analysis shows us that people are beginning to find our content by specifically plugging in terms specific to our site ("2×2 Easter play" — not just "Easter play)." Our content is gaining a following.
We post at least two features a week which congregations can adapt. Early in the week we post an object lesson intended for adults based on the week's lectionary. Mid-week we post an analysis of art that complements the week's theme. These can be adapted to multimedia presentations that some churches now show before worship (just as Redeemer did). We will continue to build on this foundation.
In addition, we offer our experience in using social media with dozens of how-to posts.
One large church recently wrote to us: "A lot is written about social media and the church, but you are the only church actually doing it."
In all likelihood, Redeemer has the widest reach of any church in SEPA Synod with followers all over the world. We engage with them one-on-one. We share ministry problems and successes and rely on one another for prayer.
What does this mean for ministry in East Falls? It means our worldwide reach can now benefit our local ministry. We have a new potential source of funding for ministry.
Redeemer always was viable despite SEPA's self-interested reports. Our day school, locked since SEPA interfered, would be generating upwards of $6000 per month. (That's nearly $300,000 of squandered potential over the last four years.) The web site could begin to generate several thousand a month within a year of nurturing—plenty of resources to fund a neighborhood ministry without a single coin in an offering plate.
Redeemer has never had more potential.
If mission is the goal in East Falls (and it is definitely our goal) the best potential for ministry is to make peace with the Lutherans who have steadfastly maintained and grown mission during the last six years of conflict. The property should be returned to Redeemer. This would be in keeping with Lutheran polity.
Our journey has been a leap into the future of the church. We could still be a small neighborhood church serving a few, focused on survival and paying a pastor—as is the case of so many small churches.
We've learned that it is possible for a small church to grow. We are very aware that 2×2 can grow beyond our own vision.
Meanwhile, the largest church in SEPA and Redeemer, the largest online church, are both fulfilling their mission with impressive results.
God is doing something new at Redeemer, East Falls.
Can you perceive it?